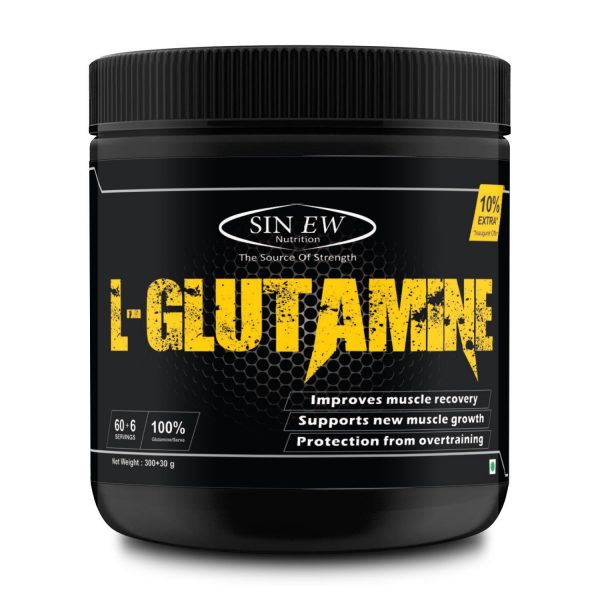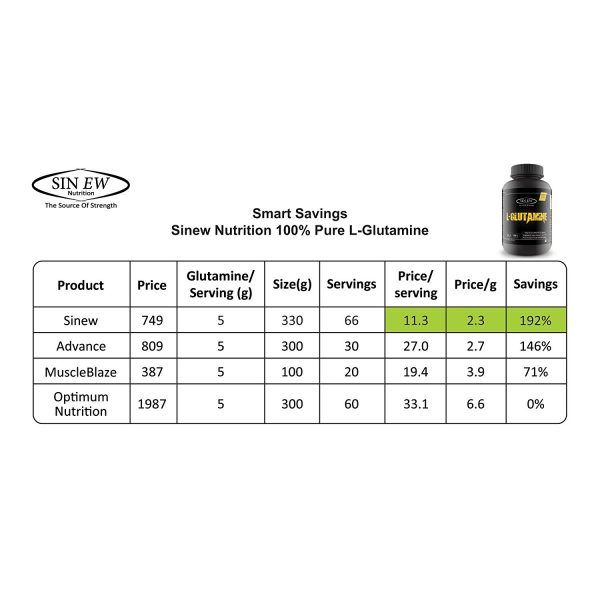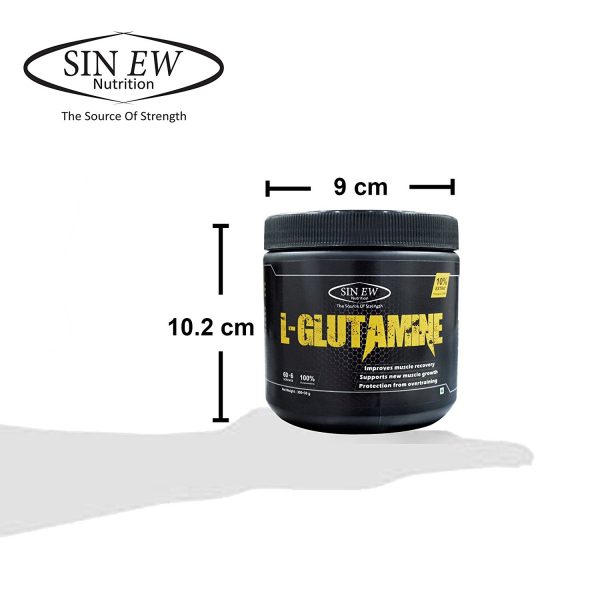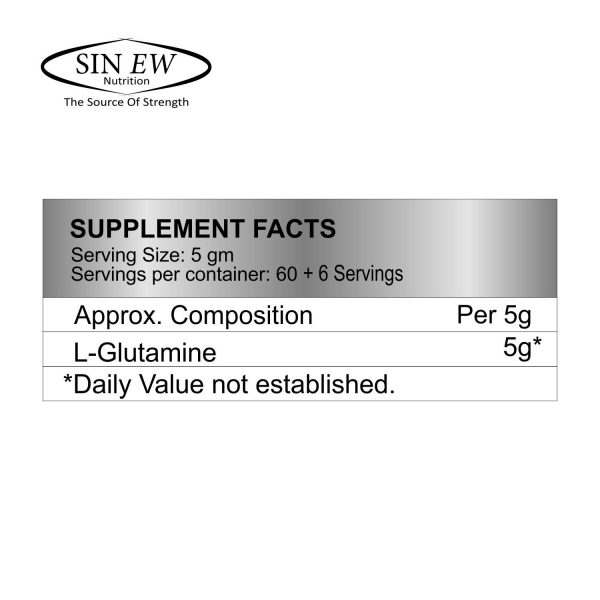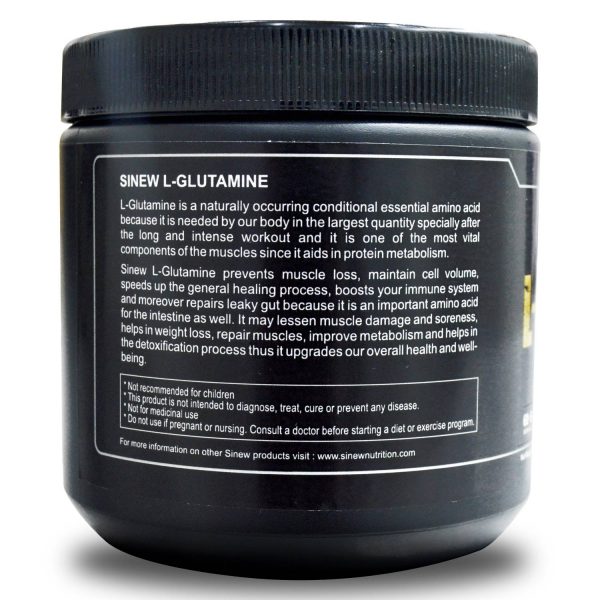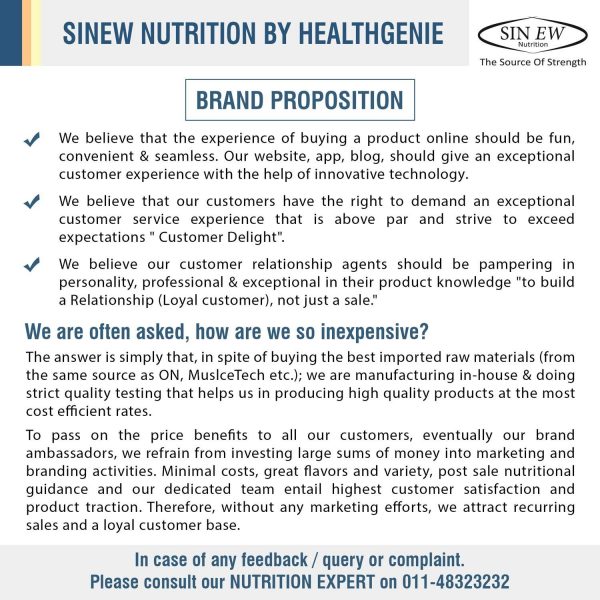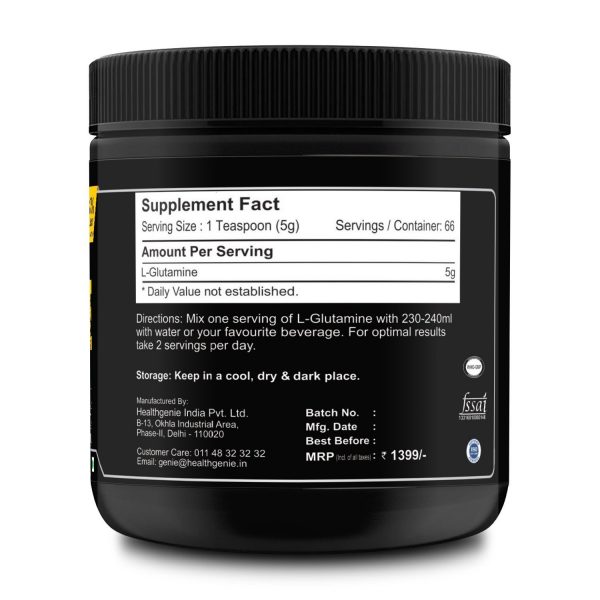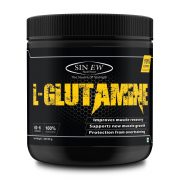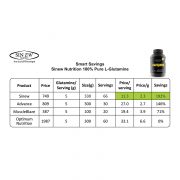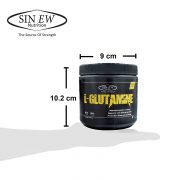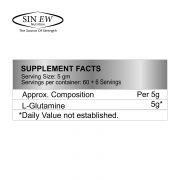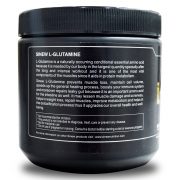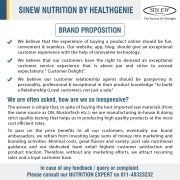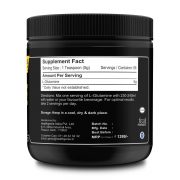 Sinew Nutrition 100% Pure L-Glutamine Powder 330gm (30gm – 10% FREE) – 60+6 Servings
Unaltered, 100% pure raw Glutamine

Benefits you by replenishing declining Glutamine levels during intense workouts

Prevents your muscle from being catabolized

Helps maintain cell volume and hydration, speeding up recovery

Each serving of Sinew Nutrition L-Glutamine Powder supplies 5 grams (one teaspoon – 5000 mg) of pure L-Glutamine
₹1,399.00
Description
Additional information
Reviews (3)
Description
Sinew Nutrition 100% Pure L-Glutamine Powder
Sinew L-Glutamine is consists of only high-quality of pure & raw glutamine which is one of the favourite choice for body builders & sports enthusiast specially for the athletes  prepare for marathon training helps them to recover muscles faster after heavy intense & prolonged workout.
How It Works 
L-glutamine is a naturally concurring conditional essential amino acid because it is needed by our body during the period of prolonged exercise when the muscles are torn, So. Sinew L-glutamine helps to stops muscles breakdown faster and assist with the protein synthesis to recover quickly to again ready for the next workout sessions.
L-glutamine helps to improve the protein metabolism and is an important energy source for many cells to work as principal carrier of nitrogen in the body.
L-glutamine speeds up the recovery time at the time of illness or intense workout and also reduce the muscle soreness.
It fuels our immune system much of it stored in the muscles and moreover repairs leaky gut because it is an important amino acid for the intensive as well.
L-glutamine enables the anti-oxidant glutathione, which helps prevent cell damage and helps protect cells against oxidising free-radicals, potentially minimizing the risk of cancer.
Adding Sinew L-glutamine to your diet helps you to lose the fat not the muscles mass and also controls the cravings for appetite.
Directions for Us
Each serving of Sinew Nutrition L-Glutamine Powder supplies 5 grams (one teaspoon – 5000 mg) of pure L-Glutamine.
For best result take 10 gm of Sinew L-Glutamine every day with 200 ml water or juice.
Additional information
| | |
| --- | --- |
| Size | 330 g |
| Serving Size | 66 |
| Product Type | Glutamine |
| Servings Per Day | 5 |