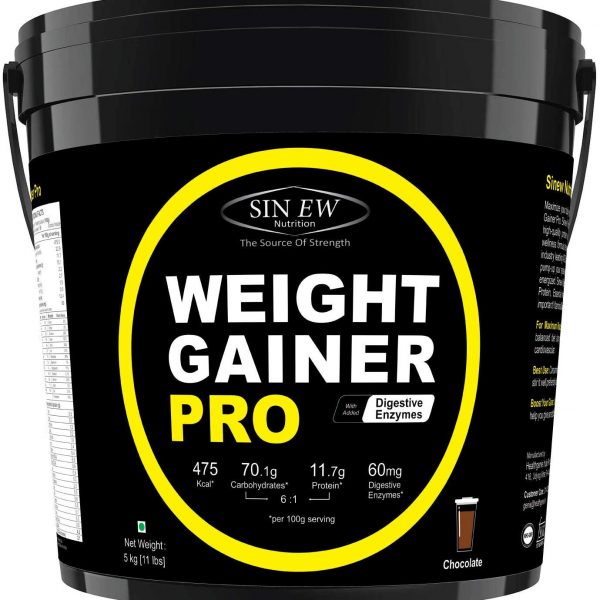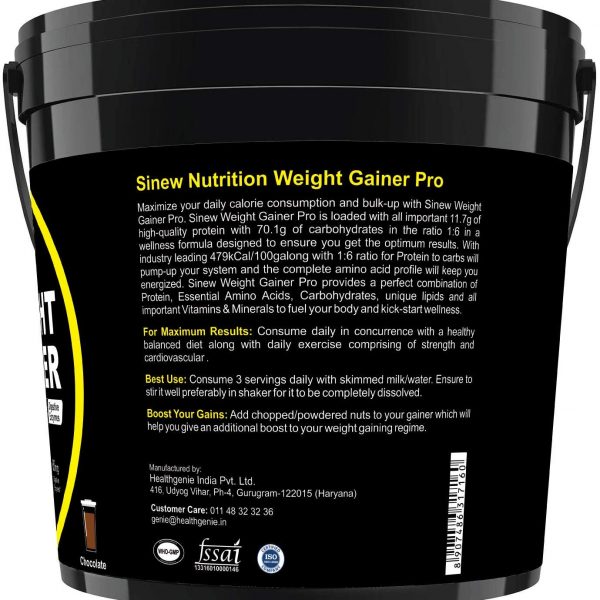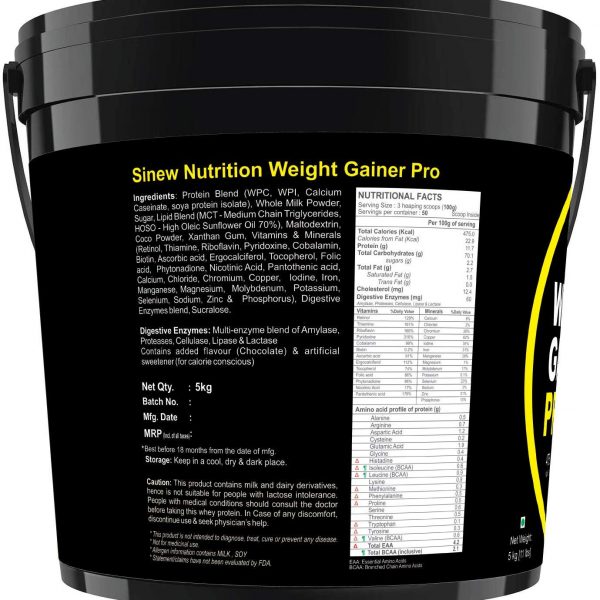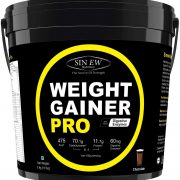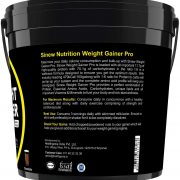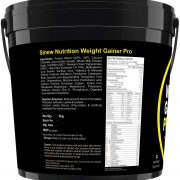 Sinew Nutrition Weight Gainer Pro with Digestive Enzymes – 5 kg Chocolate
Sinew Nutrition Weight Gainer Pro is a vegetarian product formulated with high biological value proteins, aiding in better muscle recovery

It provides one with maximum nutrition (Carbs to Protein ratio is 6:1): i.e. 70.1g of carbs, 11.7g of protein, 475k calories and 2.1g of BCAAs per serving which falls under daily recommended dosage

Micro nutrients – Each serving of weight gainer pro provides essential vitamins and minerals which helps one in post workout recovery

Improved new formula – It comes with, added high activity digestive enzymes and fiber helping one in better, easier digestion and faster absorption of energy and protein

Best Weight Gainer- It's great in taste along with added vitamins & Minerals and high activity digestive enzymes making it your go to weight gainer!
₹5,299.00
Description
Sinew Nutrition Weight Gainer Pro with Digestive Enzymes
Sinew Nutrition Weight Gainer Pro – Maximize your daily calorie consumption and bulk-up with Sinew Nutrition Weight Gainer Pro the best weight gainer. Sinew Nutrition Weight Gainer Pro is loaded with a great protein blend of whey protein concentrate, whey protein isolate , calcium caseinate and soya protein isolate which are highly biologically available providing 11.7gm and 70.1gm of carbohydrates in the ratio of 1:6 in a wellness formula designed to ensure that you get the desired results. With industry leading 475kcal per 100gm of serve, it will pump-up your system and the concurrent amino acid profile will keep you energized. Sinew Nutrition Weight Gainer Pro provides a perfect combination of proteins, essential amino acids, carbohydrates, unique lipids and all important vitamins and minerals to fuel your body and kick-start your gains. For maximum results – consume daily in concurrence with a healthy balanced diet along with daily exercise comprising of strength and cardiovascular regimen. Best use – consume 3 servings daily with skimmed milk/water. Ensure that you stir it well, preferably in a shaker for it to be completely dissolved. Boost your gains – add chopped/powdered nuts to your gainer which will help you give an additional boost to your weight gaining regimen.