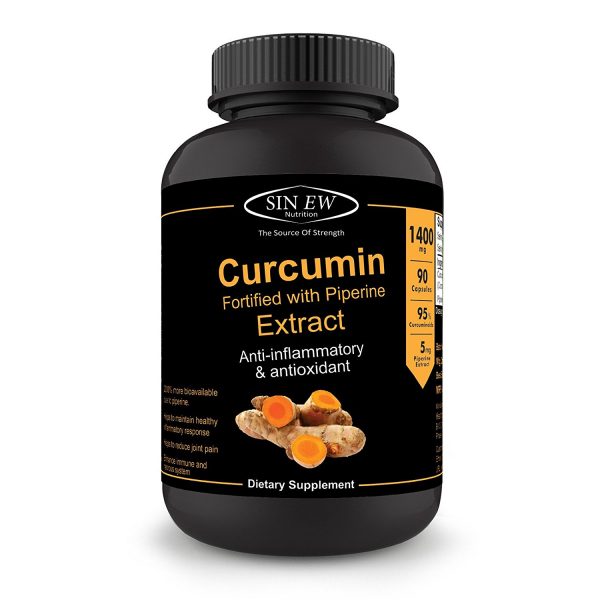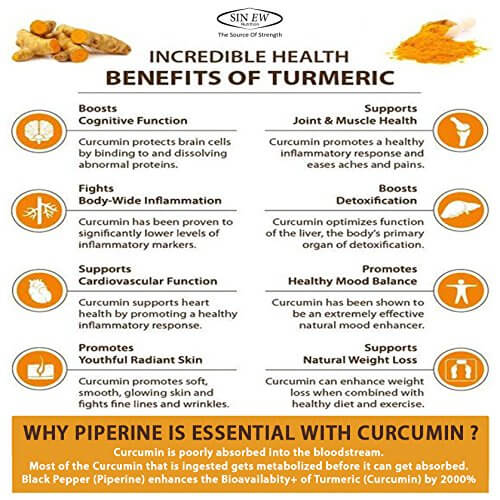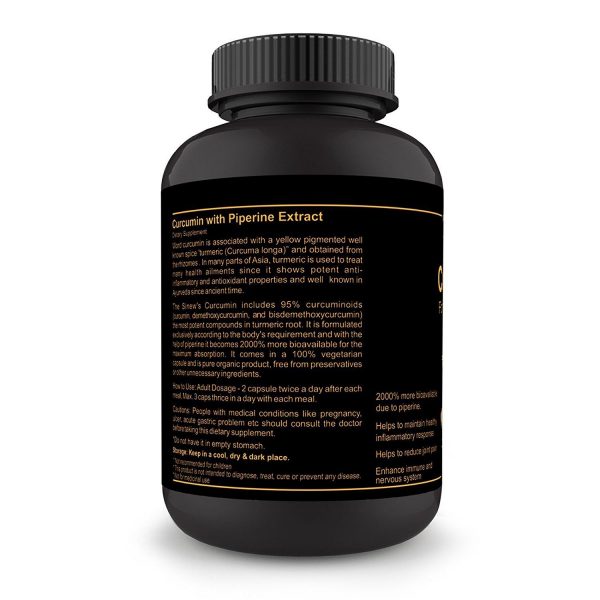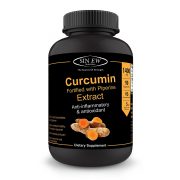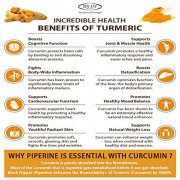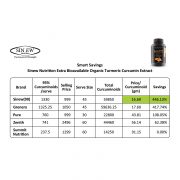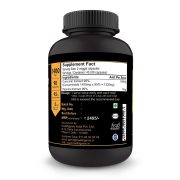 Sinew Nutrition Extra Bioavailable Organic Turmeric Curcumin Extract, 95% Curcuminoids with Piperine – 1400 mg Per Serving – 90 Veg Capsules
Our enhanced formula delivers 1400 mg curcumin complex added 14mg Piperine (No added turmeric powder) per serving includes 95% curcuminoids and 95% Piperine, the most potent compounds in turmeric root with powerful antioxidant properties.

Natural, organic curcumin with 95% curcuminoids helps cells fight against free radical damage

Natural black pepper extract with 95% piperine increase 2000% (20 times) more bioavailability of Curcuminoids

Curcuminoids present in the curcumin helps to maintain healthy inflammatory response. It also supports & maintain healthy joints

100% all natural and pure vegetarian dietary supplement made with Organic Turmeric Curcumin Extract and black pepper extract with 95% piperine. It has NO GMOs, BINDERS, FILLERS, or PRESERVATIVES
₹2,495.00
Description
Additional information
Reviews (1)
Description
Sinew Curcumin Extract with Piperine – Dietary Supplement :
Word curcumin is associated with a yellow pigmented well known spice 'turmeric (Curcuma longa)" and obtained from the rhizomes . In many parts of Asia, turmeric is used to treat many health ailments since it shows potent anti-inflammatory and antioxidant properties and well known in Ayurveda since ancient time.
The Sinew's Curcumin includes 95% curcuminoids (curcumin, demethoxycurcumin, and bisdemethoxycurcumin) the most potent compounds in turmeric root. It is formulated exclusively according to the body's requirement and with the help of piperine it becomes 2000% more bioavailable for maximum absorption.
It comes in a 100% vegetarian capsule and is pure organic product, free from preservatives or other unnecessary ingredients.
Benefits of Curcumin
Curcumin has powerful antioxidant effects. It neutralises free radicals on its own but also stimulates your body's own antioxidant enzymes.
Curcumin boosts levels of the brain hormone which increases the growth of new neurons and fights various degenerative processes in your brain.
Turmeric is the best natural anti-inflammatory supplement which supports your joints and muscles by helping to detoxify your body with antioxidant.
Organic Turmeric are packed with anti-aging antioxidants which may help alleviate damage to the skin from outside elements to works as anti-ageing.
How to Use: Adult Dosage – 2 capsules twice a day after each meal, Max.3 caps thrice in a day with each meal.
Cautions: People with medical conditions like diabetes, hypertension, pregnancy etc should consult the doctor before taking this dietary supplement.
Storage:
* Keep in a cool, dry & dark place.
* Not recommended for children
* This product is not intended to diagnose, treat, cure or prevent any disease. * Not for medicinal use.
Additional information
| | |
| --- | --- |
| Size | 90 Capsules |
| Product Type | Curcumin |