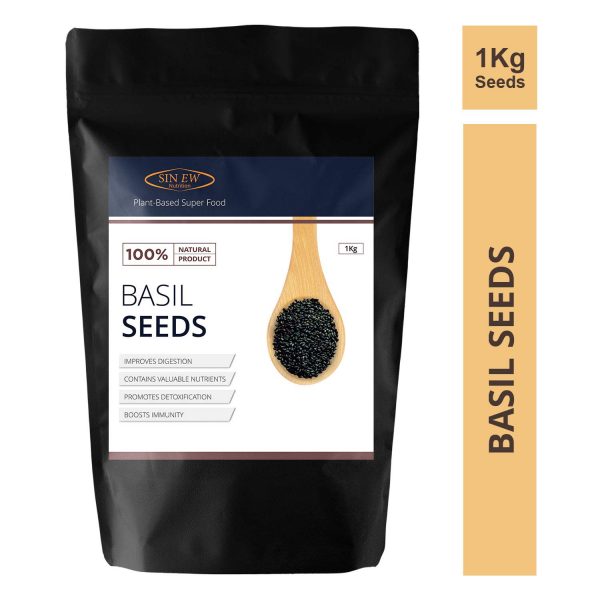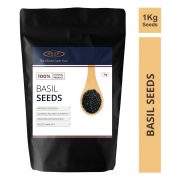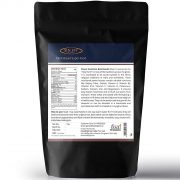 Sinew Nutrition Sabja Basil Seeds for Weight Loss 1 Kg
Improves Digestion: Sabja Seeds Helps To Clean The Stomach And Digestive Tract. Take One Teaspoon Of Basil Seeds Soaked In Warm Water Gives Relief From Constipation.

Weight Management: Regular Use Of Basil Seeds Helps In Reducing Hunger, Preventing Unwanted Cravings And Thereby Managing Weight Effectively. They May Swell To 20 Times Their Original Size, Physically Filling One Up And Satisfying One'S Appetite, Making It Much Easier To Avoid Those Calorie-Heavy Snacks.

Nutrient Rich: Basil Seeds Are Nutritional Powerhouse And Contain Valuable Nutrients Like Dietary Fibre, Vitamin A, Vitamin B-6, Vitamin B-12, Vitamin D, Potassium, Sodium, Calcium, Iron And Magnesium. Basil Seeds Are Also Rich In Fibre, Healthy Fat, Protein, Omega-3 Fatty Acids And Antioxidants That Protect Our Cells From Free Radicals.

Fibre Rich: It'S Fiber Rich Content Increases The Bulk Of Stool And Work As Bulk Laxative And Its Regular Intake Helps Relieve Constipation And Bloating.

Cooling Effect: Basil Seeds Are Known For Their Cooling Effects On The Body, As They Can Help Retain The Cold Temperatures Of Beverages And Essentially Soothe The Stomach.

Usage: Soak 1 Tsp. Basil Seeds In One Cup Warm Water For 15 Minutes; They Will Swell And Become Twice Their Original Size. Basil Seeds Can Be Added To Several Dishes To Enhance Appearance And Fibre Content Like Lemonade, Smoothie, Soup, Buttermilk, Milkshake, Baking Etc.
₹999.00
Description
Basil is revered as the "Holy Herb" in most of the traditions across the globe. It is worshiped to be sacred symbol in the Hindu religious traditions in India and worldwide. These nutritional power houses contain valuable nutrients like dietary fibre, protein, vitamin A, Vitamin B6, Vitamin B12, Vitamin C, Vitamin D, potassium, sodium, calcium, iron and magnesium. It ensures easy bowel movement and to flush out toxins from stomach. These seeds are loaded with fibre giving a sensation of fullness and also helps one lose weight in a healthy way. They can be easily used as a garnish for desserts or can be blended in a lemonade and sprinkled over kulfi, fruit salad or in a yoghurt bowl.